There are many options for trendy maternity clothes these days, but how many of them are actually comfortable enough to wear? When you're pregnant, the smallest details about clothing can get on your nerves and make you want to strip in public - no joke. Therefore, it's important to not only find trendy maternity clothes that will make you look and feel beautiful, but also to find the ones that will allow you to enjoy your days as a pregnant woman. These 7 Trendy Maternity Clothes for a Comfy Wardrobe should get you well on your way to being beautiful and in style while pregnant.
---
1

Old Navy Maternity Maxi Skirt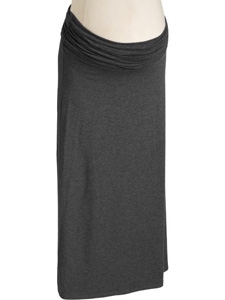 Price: $29.94 at oldnavy.gap.com
Nothing says "comfy" more than a soft and stretchy skirt and Old Navy has one that keeps up with the latest style trends as well! This skirt comes on both gray and black and is highly versatile with your wardrobe to allow you to create just the trendy maternity look to turn heads. One of my favorite looks with this skirt is the one pictured at oldnavy.com, where they pair the gray skirt with a purple tank and a cute, cropped, denim jacket (which I also own.) Finish this ensemble with a cute scarf and you're ready!
---
2

Old Navy Smocked Maxi Dress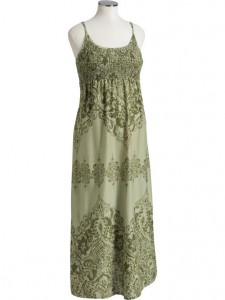 Price: $34.99 at oldnavy.gap.com
I do so love a maxi dress for some trendy maternity clothes! What is absolutely wonderful about them is that they're great transitional clothes for after you have your baby as well! This particular maxi dress would make a great nursing dress for the breastfeeding mom out in town. There are so many different ways to accessorize a maxi dress, depending on where you plan to where it to, but you're going to have much fun changing the look of this maxi dress. Just be warned, I found when I ordered this particular one, that it does run slightly big, so you may want to order one size smaller than you usually would.
---
3

Gap Henley Tunic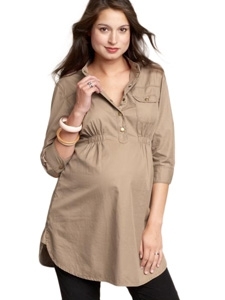 Price: $49.95 at gap.com
A tunic is such a beautiful piece of trendy maternity clothing to add to your collection. Again, it's highly versatile and gives you a great piece for a day out in town or a day on the job. You choose and accessorize to match the occasion. Whether you pair it with leggings or a comfortable pair of jeans, you're good to go with the adorable Henley Tunic at Gap! I believe this would make another great transition piece for after the baby is born as well, and again, you'll have no problem nursing in it. Make that money stretch as much as possible, right?
---
4

Gap Asymmetrical Wrap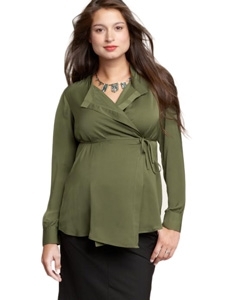 Price: $49.95 at gap.com
A wrap top is another great top to add to your prenatal wardrobe, if I do say so myself. I fell in love with this particular one. Not only is the color amazing, but the style and design is very flattering to the pregnant figure. This is a perfect choice for work, date night or any other "dress-up" function. I personally suggest pairing it with creams, browns and topping the look with a beautiful string of pearls, but that's just me. However you work it, this is definitely a top worth working, wouldn't you agree?
---
5

Motherhood "Loved by Heidi Klum Secret Fit Belly Super Stretch Slim Leg Maternity Jeans"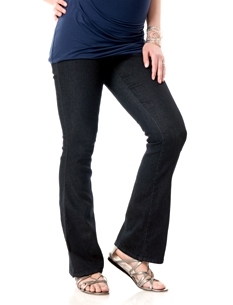 Price: $39.98 at motherhood.com
Out of all the different maternity belly designs, the Secret Fit Belly has been my favorite. When I'm pregnant, I can't stand anything tight or bulky on the lower part of my belly or the upper part. The Secret Fit Belly doesn't have any elastic or anything to bother you. It's just simply soft, stretchy fabric that gives you a sense of support and comfort the entire time you're wearing it. You can find both skirts and pants with the Secret Fit Belly, in all kinds of styles, so I'd recommend shopping Motherhood for the right one for you. If you like Heidi Klum's style, this pair of trendy, maternity jeans may be right for you. They are cute, right?
---
6

Motherhood "Loved by Heidi Klum Sleeveless Side Ruched Maternity Dress"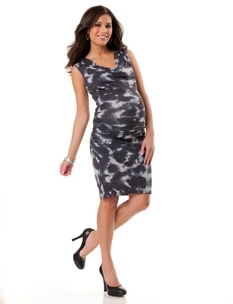 Price: $39.98 at motherhood.com
While everyone around you is singing "One Hot Mama" as you walk by wearing this gorgeous dress, you're going to be humming "Sweet Southern Comfort" (or something of equal comforting sound, at least...) Who says a pregnant women can't be super comfortable and yet hot and trendy all at the same time? Not me! Heidi Klum knows all about trendy maternity clothes that are comfortable too! I'm not for sure how long you'll be able to pull of a good pair of heels, though. My love for heels carried me into the third trimester, until leg cramps and achy feet got the better of me. But hey, I say, wear them until you can't any more!
---
7

Motherhood 1 Button Closure Feece Coat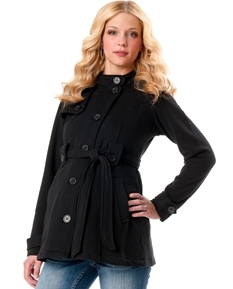 Price: $49.98 at motherhood.com
Personally, I don't know of too many pregnant women who have had much of a need for a coat - no matter how cold it is. One tends to get much more hot when pregnant for some strange reason. However, if you think you're going to need one, this coat from Motherhood is certainly cute and trendy! I'd wear it if I were cold enough. I love the design of this particular coat, and find it quite the finishing touch to a collection of trendy maternity clothes for your entire pregnancy.
I like to be in style and I love to keep up with the latest trends. However, if those trends can't be combined with ultimate comfort when I'm pregnant, buying them is a complete waste of money for me. If you're like me, then you will appreciate this list of 7 Trendy Maternity Clothes for Comfy Wardrobe and will be rewarded with the ultimate experience with being pregnant and looking beautiful all at the same time. How important is comfort to you when pregnant? We'd love to hear from you!
More
Popular
Recent