I love Marc Jacobs fashion, and only recently discovered that he has an entire line of clothes for babies and kids… and it's totally adorable! I especially love the little girl clothes, since I have two daughters, but the boy clothes are cute, too! And they all coordinate so sweetly. Here are 7 adorable clothes from Little Marc Jacobs.
1

Little Marc Jacobs Horacio 2 Guitar Print Tee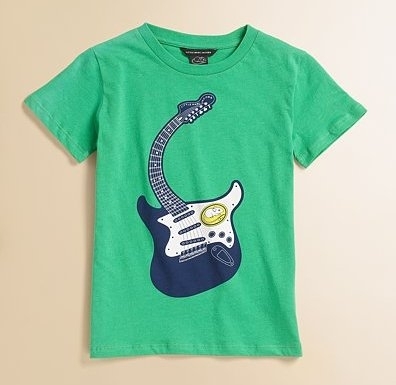 Price: $53.00 at saksfifthavenue.com
Celebrate the little rocker in your life with this bright green cotton tee featuring an electric guitar. Pair with dark denim jeans or short and a pair of cute Converse All-Star high tops, and for dress, add a blazer over it. So cute!
2

Little Marc Jacobs Baby Mouse Ballet Flats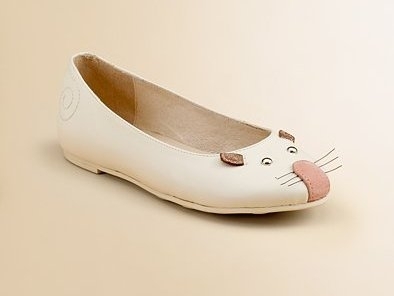 Price: $145.00 at saksfifthavenue.com
I've never seen a cuter pair of little girl's shoes! These little ballet flats are designed to look like little mice, in either cream or navy blue. These can be worn with jeans and a tunic, or with a skirt or a dress. So adorable! I love these!
3

Little Marc Jacobs Hopper Boat-neck Tee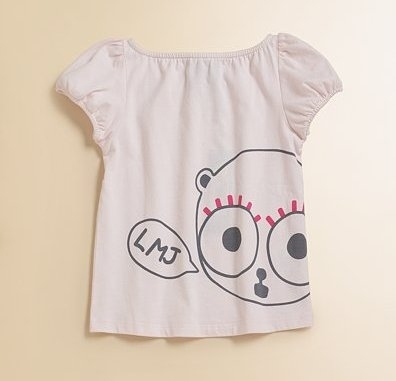 Price: $46.00 at saksfifthavenue.com
Wide-eyed, long-lashed Hopper is one of my favorite LMJ characters, and I love her on this tee. She's emblazoned on this white cotton tee with a boat-neck and short puffy cap sleeves. Pair with a cute floral-print skirt and maybe those little mousie flats… what a cute spring ensemble!
4

Little Marc Jacobs Hermione Printed Tank Dress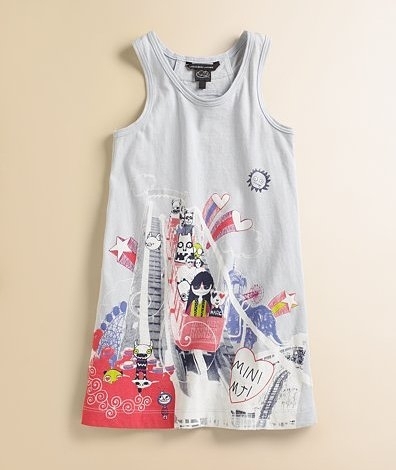 Price: $88.00 at saksfifthavenue.com
All aboard for this super-fun rocket ride! This cute racer-back dress features a brightly-colored thrill ride packed with all of your favorite LMJ characters, and a couple of monsters ho couldn't make it on board on time. Pair with flip-flops for casual summer fun, or layer with leggings and a cropped cardi or hoodie for an outfit for school.
5

Little Marc Jacobs Hector Alien Print Tee

Price: $44.00 at saksfifthavenue.com
This little green tee is loaded with a line-up of UFC's (unidentified friendly creatures) of all shapes and sizes, ready to add a little alien fun to a boring school or playtime outfit. I love the tiny chest pocket and the adorable stripey creatures… so cute! I mean, so tough!
6

Little Marc Jacobs Scuba Miss Marc Swimsuit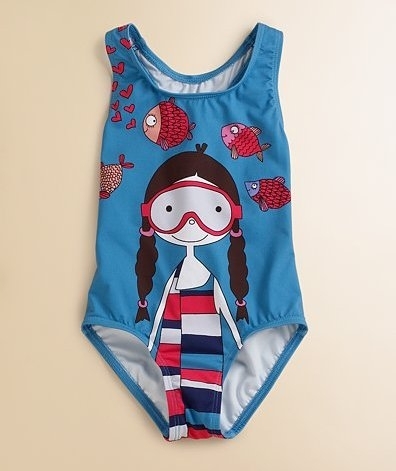 Price: $89.00 at saksfifthavenue.com
My 7-year-old loves Miss Marc, and here she is, smiling on the front of a cute blue and pink one-piece tank swimsuit. She'd got her scuba gear on, and is surrounded by a school of smiling fishies. It's fully lined and is made of a stretchy nylon/spandex blend.
7

Little Marc Jacobs Horacio 2 Mouse Print Tee

Price: $53.00 at saksfifthavenue.com
Radical, dude! This mouse demonstrates his skateboarding prowess on this dark orange cotton crew-neck tee, suitable for little boys or little girls, ideal for wearing with cute plaid board shorts or skinny jeans. Layer it over a long-sleeved tee or under a blazer, either way, it's just as cute.

There are so many more cute goodies in the Little Marc Jacobs line, but these are my favorites… I especially love the little Hopper tee… it's just too darn cute! Which of these LMJ tops and stuff do you like best, and what would you pair it with? Do tell!