Whether your little princess needs to wear them to school as part of her uniform, or she simple loves their preppy style, she ought to have a few in her closet to round out her wardrobe. They look adorable with capris or a pleated skirt in the warmer months, and just as cute with a long-sleeved tee underneath and skinny jeans in the winter. They're so versatile! If you're looking for a few to add to your shopping cart, to make school-day dressing just al little easier, I can help! Here are 7 cute polo shirts for girls… some are even logo-free, so they can be worn as school uniforms!
---
1

Justice for Girls School Uniform Polo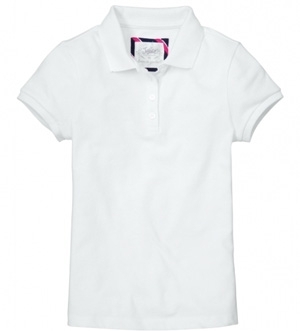 Price: $13.90 at shopjustice.com
This preppy four-button polo is logo-free and cut long enough to be tucked in, which makes it an ideal school uniform top. It comes in a wide range of colors, eight in all, from black to white and everything in between. It's made of a super-soft poly/cotton blend, and best of all, in the inside collar is an inspirational message: believe in yourself!
---
2

LL Bean Double L Polo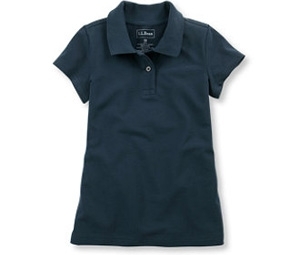 Price: $14.50 at llbean.com
Choose from pure white or deep navy, either way, this cute polo is sure to make your little prepster very, very pleased! It's a little longer than most, ideal for tucking into pants or skirts, and features a relaxed two-button placket.
3

Crazy 8 Uniform Long Sleeve Polo Shirt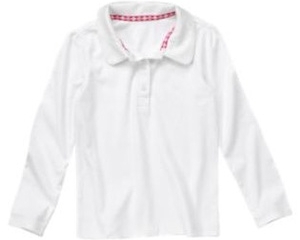 Price: $10.75 at crazy8.com
This pure white, machine-washable long-sleeved polo short is also logo-free, making it acceptable for use as a school uniform top, too! I love the little ribbon inside the collar, all red and white argyle. It's adorable with a khaki shirt of navy shorts, and can be layered with a cardigan over it or a cami underneath, for extra warmth.
---
4

Gymboree Uniform Pique Polo Shirt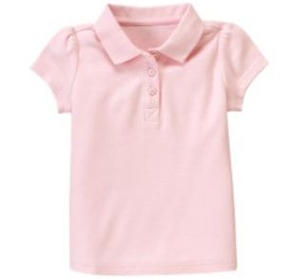 Price: $14.75 at gymboree.com
By the time your little one gets home from school, the stain she got on the playground or at lunch or in art class has been set for hours. That's why this polo is so amazing — it's pre-treated to resist stains. Hooray! It's also completely adorable, with slightly puffed sleeves and a range of colors to suit any school dress code, or preppy princess's personal preference.
---
5

Gymboree Uniform Long Sleeve Polo Shirt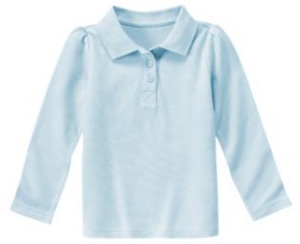 Price: $16.75 at gymboree.com
This polo shirt is nearly identical to the one above, with the same stain-resistant fabric and the same range of color options. This one's long-sleeved though, keeping your little one warm and comfortable on even the chilliest school day.
---
6

Carter's Colorful Polo Dress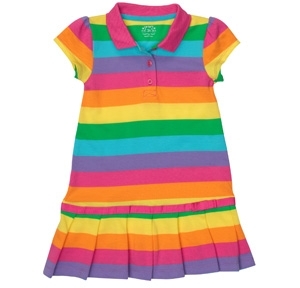 Price: $12.00 at carters.com
I'm perfectly well aware that this doesn't technically qualify as a polo shirt, but it's certainly sweet enough to make an appearance on my list! I love the vivid rainbow stripes and the super-cute ruffle at the bottom. Add leggings in almost any color you choose and a long-sleeved tee underneath and you have an adorable school-day ensemble!
---
7

Lands' End Short Sleeve Feminine Fit Interlock Polo Shirt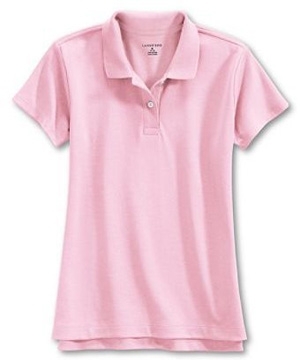 Price: $16.50 at landsend.com
This polo is made of the softest, plushest cotton ever, with a fitted shape and longer length, with vents at the side. It comes in 12 pretty colors, and you can even have it monogrammed for an extra $5. And here's one less headache for mom: it's also pre-shrunk. Yes!
With so many adorable, preppy little polo shirts to choose from, the hard part will be helping your little one choose which ones she wants most! Which of these polo shirts do you think she'll like best, and what would she wear it with?
---
Comments
Popular
Related
Recent