7 Gooey Science Experiments to do with Your Kid ...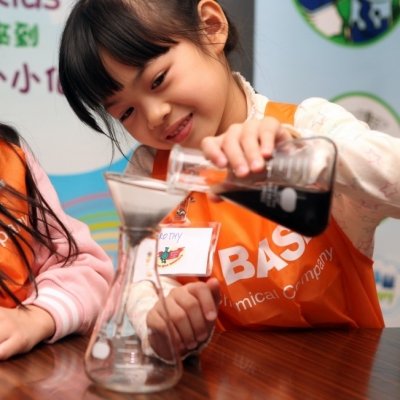 There are a lot of gooey science experiments for kids you can do right at home. Kids can learn some interesting and fascinating science and technology facts by experimenting with different materials that react in wonderful ways. A lot of these experiments can be done using simple materials or ingredients found around the house, so these next basic tips will help you perform experiments that are safe, easy to do, interesting and fun for your kids. Basically, most science experiments are actually fun learning games that will delight and amaze your little one. Here are a few gooey science experiments for kids that make learning fun:
1.

Glow-in-the-Dark Slime
One of the easiest gooey science experiments for kids is glow-in-the-dark slime. For this you'll need to use 2 Elmer's white glue bottles, 3 or 4 tablespoons glow in the dark paint, water, neon food coloring, 1 teaspoon borax, and half a cup of warm water. Pour the glue into a bowl, add some water and mix with a spoon; then add food coloring. Stir in the glow in the dark paint. Mix the warm water with 1 teaspoon of Borax add to the glue mixture and blend with a spoon until combined. Wait till it's dark and see the effects.
As disgusting as it may sound, your kid will probably love to make some fake snot, so why not do this together? For this, you'll need some boiling water, some gelatin, a cup, a fork and corn syrup. Just fill half a cup with boiling water, then add 3 teaspoons of gelatin. Let it soften and then stir with a fork. Next, add a quarter of a cup of corn syrup, stir the mixture again and as the mixture cools slowly, just add more water, in small amounts at a time.
In order to make the Dancing Oobleck you'll need to mix together about 2 cups of corn starch and 1 cup of water. If you want to make it more interesting, you'll need to use a subwoofer, a thin metal cookie sheet, a MP3 of an audio test tone and food coloring. Add food coloring, then place the cookie sheet onto the speaker of the sub, pour in the Oobleck and see what happens.
This stretchy and bouncy rubber slime is very fun to play with. You'll just need liquid starch, glue and food coloring. Pour some glue into a bowl, add food coloring and mix it up well. Then add some liquid starch (about 1 part glue to 1/2 – 3/4 parts starch) and start mixing. The mixture will start changing as the starch and glue mix together, so keep playing with it!
This is very easy to do and very fun too! You'll simply need some Kool-Aid or food coloring, 1 box of spaghetti, oil and water. Divide 1 box of spaghetti in three parts, put 4 to 5 cups of water in a pot and add one packet of Kool-Aid of your choice and bring it to boil and you'll notice that when the spaghetti is cooked, it will turn the color of the Kool-Aid. Then simply drain the cooked spaghetti, wash it with cold water, drain them once again and add about one tablespoon of oil.
In order to make Sudsy goop, here is what you should do: make soapy water with a few squirts of body wash or baby wash, then add sudsy water to cornstarch. Mix until you get a batter like consistency and then simply add food coloring or Kool-Aid for added color or scent. This mix resembles paint and it's so fun to do and to play with!
This glowing goop is so easy to make and it's also fun to do. If you want to make glowing goo you will need: corn starch, water and glowing water or even some fluorescent paint. If you are using glow water, slowly mix the glow water into the corn starch until you have reached the desired consistency. If you are using fluorescent or glow in the dark paint to make your glowing goo, then just add a bit of the paint to your corn starch and regular water mixture as you are mixing the ingredients. The difference between those two ingredients is that glow in the dark paint will make your goop glow in the dark while the fluorescent paint will make it glow under blacklight.
These experiments are so easy to make and they are a lot of fun too! Do you know any other gooey science experiments for kids? Please tell us about them in the comments section!
Sources:
apumpkinandaprincess.com
sciencekids.co.nz
housingaforest.com
allfortheboys.com
the36thavenue.com
blogmemom.com
growingajeweledrose.com
tipjunkie.com
sciencekids.co.nz
kidspot.com.au
{{#comments_count}} Show Commnents ({{comments_count}}) {{/comments_count}}