I know what you're thinking, "Are tie-dye crafts still cool?". Well, last month while I was watching the hit ABC show Revenge, I noticed that one of the actresses was wearing a tie-dye dress, so this craft is not just cool, but it has turned couture as well! Who knows, maybe one of your kid's tie-dye crafts will be on the runway someday!
---
1

Tie-Dye Coffee Filter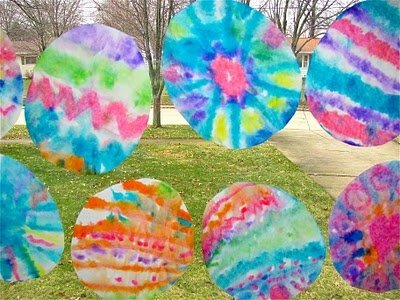 This is probably one of the easiest tie-dye crafts to try with your kids, and I can't believe I'm just learning about it now! No need to get messy with dyes and food coloring (though they are coming later), all you need for this craft project is a few coffee filters, water based markers, and water! Before you start with the coloring, cut them into fun shapes for the season or holiday you are celebrating: leaves for the fall, snowflakes for the winter, or flowers for springtime. Stop by prekandksharing.blogspot.com for the complete tutorial.
---
2

Tie-Dye Shoe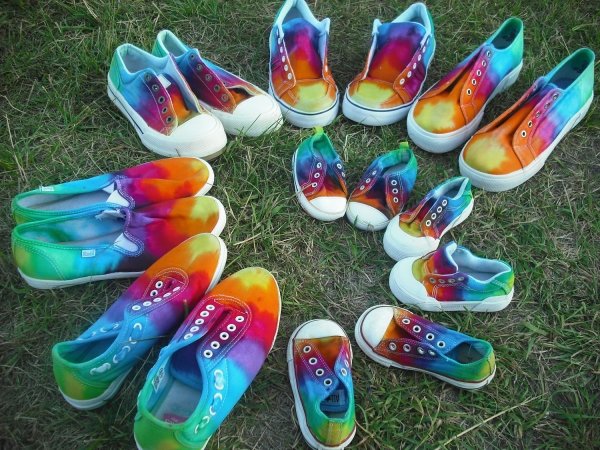 There are tons of tie-dye t-shirt projects on pinterest, but what about tie-dying your shoes? This is a really great way for kids to feel like they have a one of a kind pair that everyone at school will be asking about. There are tutorials using tie-dye kits, but I actually found one that uses the same trick as the coffee filters, curiouslycreatingit.blogspot.com, For this DIY you'll need a white, canvas pair of shoes, water based markers, and water. Don't be afraid to get creative and mix fun colors together for a funky look!
3

Tie-Dye Easter Eggs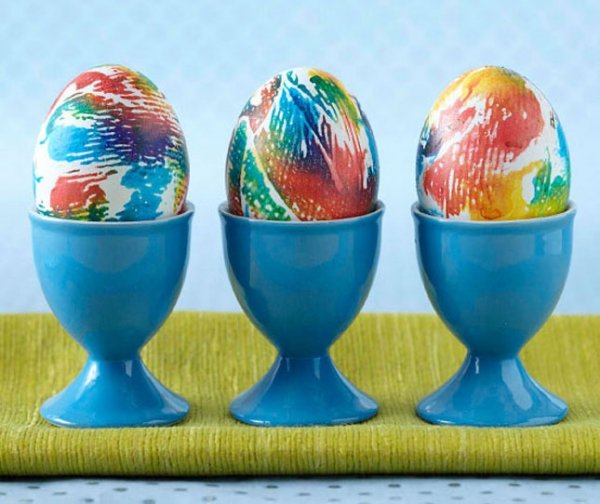 My girls love getting creative with their eggs for Easter, so I just couldn't pass up on sharing this tie-dye idea for your kids! For this DIY, you will need to wear gloves so you don't come in contact with the food coloring that is used. So, are you wondering how it's done? The trick is to wrap your egg with a paper towel (one layer around the egg) and put drops of food coloring all around it (allowing the dye to soak through the paper towel), then unwrap the egg, let it dry, and watch as your kids' work of art comes to life! Check out hellobee.com to see how she did this craft this her kids.
---
4

Tie-Dye with Elmer's Gel Glue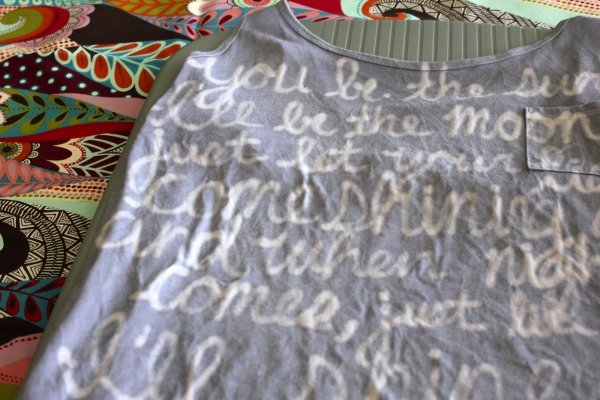 This is a really creative idea that is pretty simple, and one I can't wait to try! The Elmer's gel glue leaves a watermark effect on your shirt after you wash it, it's pretty neat to watch what you created come to life through the tie-dye colors. The first step is to design with the gel glue on a blank canvas; a white t-shirt, pillow case, whatever you'd like to use, and let the glue dry for 24 hours. Then go about tie-dying your shirt. Rinse the shirt in cold water and rub off the glue, then run the shirt through the cold cycle in your washer, let dry and you have your very own, magical tie-dye shirt! Your kids will be amazed by the watermark effect the gel glue leaves!
---
5

Tie-Dye Mickey Mouse Design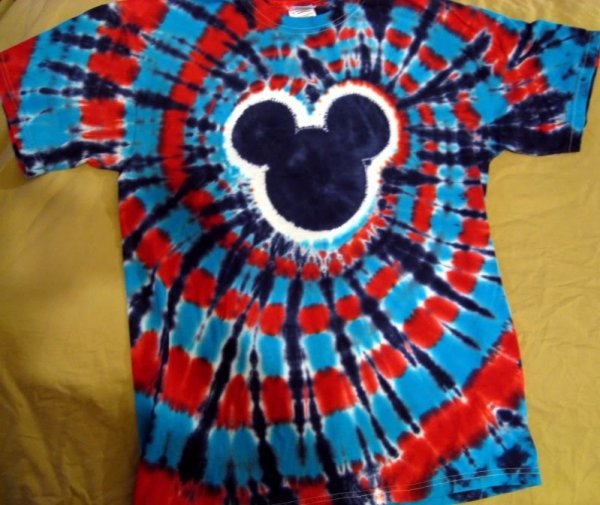 If you're planning a trip to Disney this year or your kids just can't get enough of Mickey Mouse, then this is the perfect tie-dye craft for you! It's another easy DIY done with markers, this time using Sharpie permanent ones, as well as plastic cups, yep...plastic cups! Continue to scrapinspired.com to see the tutorial.
---
6

Heart Tie-Dye Shirt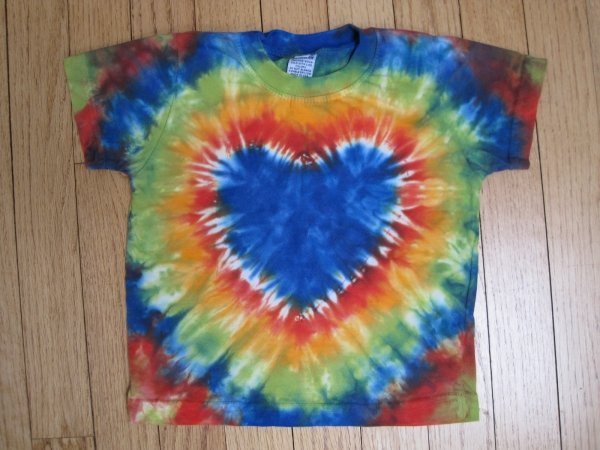 Have you ever wondered how to get a heart in the middle of a tie-dye shirt? Well, your days of guessing how the trick is done are now over! It's pretty simple and probably easier than expected. This would be a great design for Valentine's Day and is adorable on little girls and boys, as seen here in the tutorial over on happygoluckyblog.com.
---
7

Tie-Dye Play Dough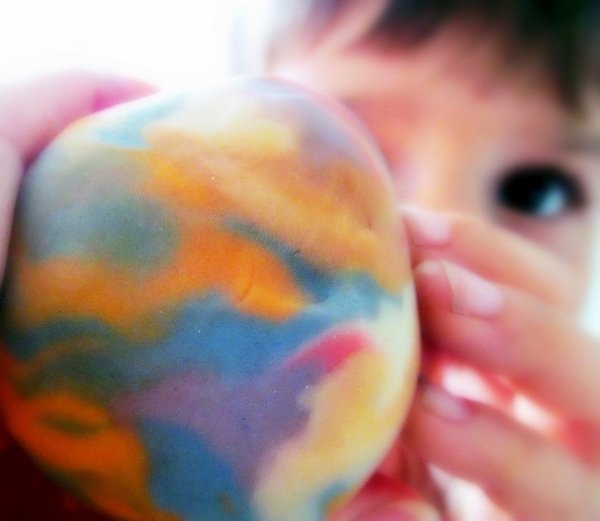 OK, this is a pretty incredible idea, and another one I have never heard of or seen until now! Moms, if you are in need of fun ideas during snow days and summer vacation, just search pinterest and the Internet, it's out there! This DIY uses play dough, crepe paper, and water for an easy tie-dye craft your kids will love to do over and over again! Check out blogmemom.com for the complete how to.
What are some creative tie-dye crafts you've put together with your kids?
---
Popular
Related
Recent