I've been researching nursery ideas a lot lately, and boy are there some amazing styles out there! Gone are the days of quickly adding a duck border and a pink or blue crib sheet; these days nurseries are bright, bold and beautiful, and come in just about every theme possible. Our little ones are spoilt for choices! Here are some of the amazing nursery ideas I'm loving at the moment…
---
1

Yellow and White Elephants…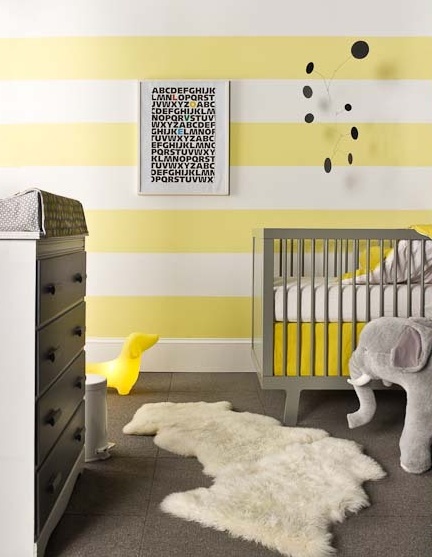 Nursery ideas for boys can be so repetitive, so it was refreshing to see this zingy theme! I love the yellow-and-white striped walls, and the bright crib set, and that tiny yellow dog is just adorable. But it's the rest of the room that really make the look: a silver cot, silver and black drawers and a black mobile add a touch of modern masculine, and the big elephant teddy and furry rug add comfort. It's just perfect for any little man!
2

Vintage…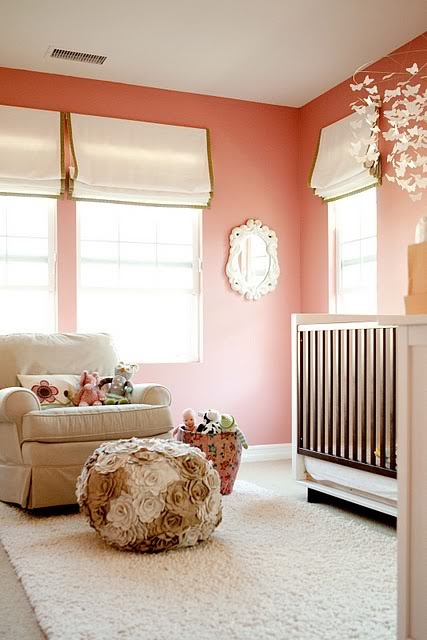 This look takes strong inspiration from vintage nurseries, and it's just beautiful. Muted coral walls work perfectly with the off-white mirror and blinds, and the relaxed style of the old chair contrasts the fussy flowery vintage pouf. That butterfly mobile is stunning, and I love the floral toy holder, too…just add a big fluffy rug and this is a room anyone would enjoy being in.
---
3

Rustic…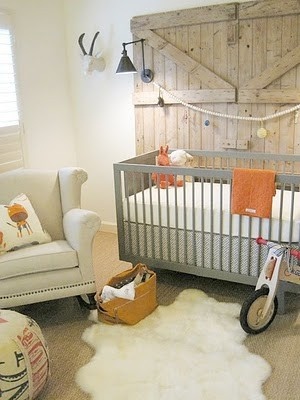 I love the rustic feel of this unisex nursery: that big wooden door looks gorgeously country, and the structured chair and contemporary crib add warmth. This nursery perfectly proves that it's all in the detail, though. From the cute farmyard teddies on the bed to the rope decoration across the door, circus-themed pouf and wooden trike, it's the little things that make this room so damn cute.
---
4

Pink…but Not Too Pink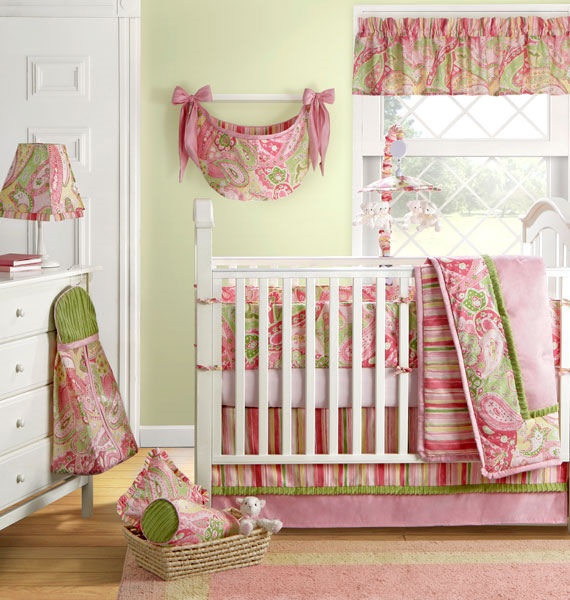 I love the way that this room incorporates pink without it becoming an overbearing color; it's a clear part of the theme, but it's so well done! To rock the look, opt for white furniture like drawers and cots, and paint the door and window frame white too. Then choose a print such as this green and pink design, and buy matching lampshades, curtains, bedding and throws. Even the rug is well coordinated! It works just as well with blue, too, or pick a scheme that incorporates your favorite colors.
---
5

Jungle…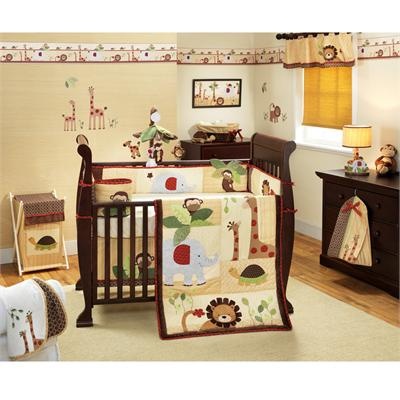 The jungle theme has been big for nurseries for years, and it's no wonder why: any baby would love this gorgeous scheme. To really rock the look, find a decorating store with a range of matching creatures, and invest in a border, curtain and wall decals. Then find crib bedding, a throw and bibs in a similar scheme, and use a classic crib such as this one for a real contrast. I love how friendly and welcoming the animals look in this set…I wonder if they do this for adult beds?!
---
6

Minimalist…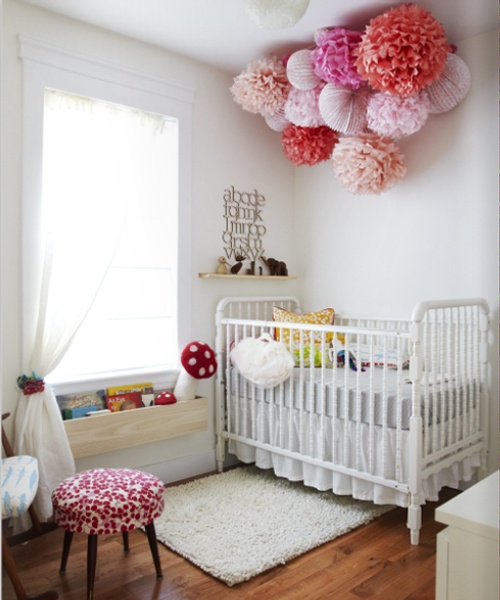 If you don't want to redecorate a whole room, worry not. This is a great example of a minimalist nursery: just add a crib, and make the rest yourself. A wooden tub under the window makes a great book holder, and wooden letters can be bought from any craft shop for very little. I love the wooden ducks on a shelf, and the balls of bright material can be made from wool or cotton, or even bought and sellotaped to the room. Then just add a warm rug, and you've changed a room without needing a lick of paint.
---
7

Twins…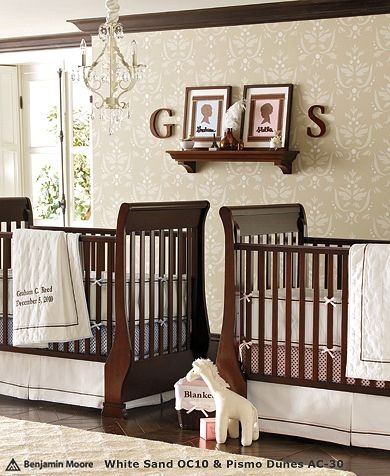 I wish I'd seen nursery ideas like this before decorating the twins' nursery; it's stylish, easy and much easier on the eye! Twins take double the space, and you'll spend twice the time in the room, so try to keep plenty of space free. Symmetrical cots with matching crib equipment will make life easier, and I love the photos and wooden letters on the wall – it's a great way to add a touch of personalization! Now all you need are some drawers, and a pile of clothes for them to share.
---
8

Pastels…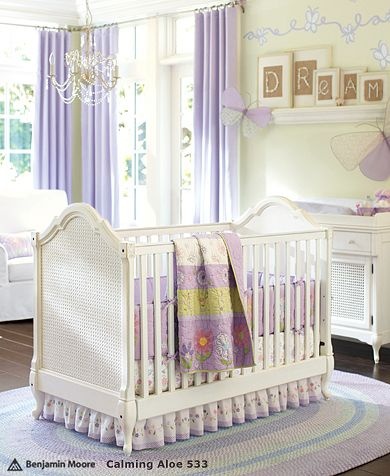 Pastel colors are perfect for babies, and there is something very cohesive about this lilac and yellow scheme. From the off-white furniture to the lilac curtains, yellow throw and gorgeous purple butterfly wall decorations, it all looks so together! I love the idea of buying or making shadowbox frames with an inspirational word or your child's name in, too. This is one of those nursery ideas that is so easy to replicate, but so effective!
Ther are plenty of other nursery ideas I'm loving too, from pirate themes to space themes, 3D decals to big wall murals. Things made for babies are just so cute! I'll definitely be stocking up on wooden letters and cute teddies, even if they are just for friends' babies right now. Which nursery designs do you love? I'd love to know!
---
Comments
Popular
Related
Recent