I have a feeling that parents are going to be attending or planning a few Disney Frozen themed parties this year. It seems that everyone forgot about "Brave" when "Frozen" came out and fell in love with the characters and music. Has your little one been running around singing Demi Lovato's, "Let it Go" since this movie premiered? Well now you can make their dreams come true for their birthday or even just a sleepover with a Disney Frozen themed party with these cute ideas.
---
1

Build Their Own Snowman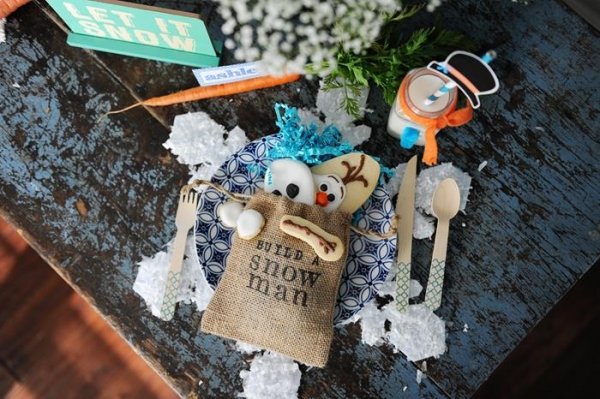 One of the cutest characters from this movie that is a must have for your Disney Frozen Themed party is Olaf the snowman! Your little ones can have fun building their own snowman, knocking him down, and then building him back up again with this free printable over at catchingupwithkate.com. Or you can make Olaf cookie pieces, mix them up in a bag, and watch as the kids build their own snowman cookie like they did over on karaspartyideas.com. That is if they don't eat all of the cookies before putting him together! I love both ideas, which one is your favorite?
---
2

Frozen Themed Food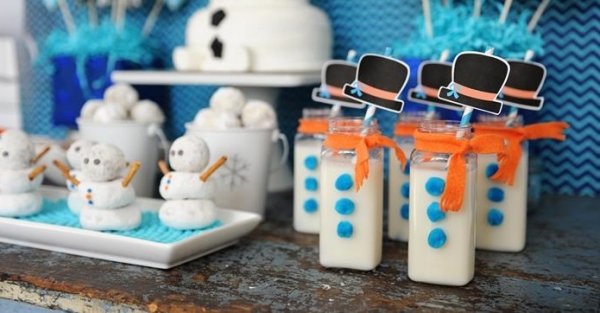 What's a party without food?! When you have a theme it's fun to create food that helps to really pull everything together. From Frozen Snow Cap Punch at bubblynaturecreations.com that looks like ice and snow, to snowball cupcakes also at bubblynaturecreations.com, there are tons of creative ideas out there to make your Frozen themed party the best one on the block! I love this cool idea over on soiree-eventdesign.com of creating a "snowball" bar for the kids, who wouldn't love that?!
---
3

Frozen Decor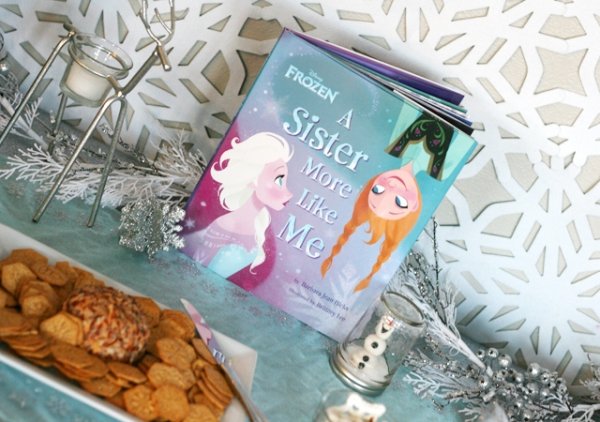 If you have a lot of snowman decorations, white twinkling lights, and miniature snowy trees, then your Disney Frozen themed decor is just about complete. Add a few printables featuring sisters Anna and Elsa along with their friends, and you're finished! Check out homeketeers.com for free party printables that include cupcake wrappers, straw flags, garland and more! Get your kids in on the fun when decorating and have them cut out their own paper snowflakes to hang up for their party.
---
4

Frozen Invitation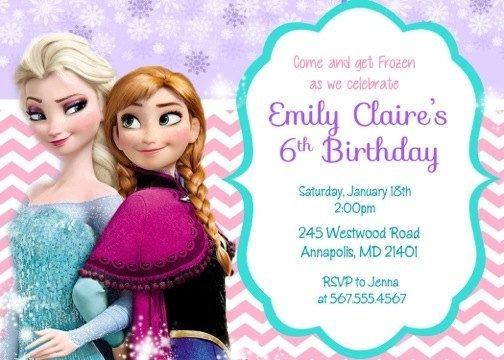 Your little one's friends will be so excited when they receive a Frozen party themed invitation in the mail that there is no chance anyone would say no! What's a Frozen invitation without the two sisters Anna and Elsa on it? Check out this fantastic and totally free downloadable invitation over on homeketeers.com that your son or daughter's friends will just love!
---
5

Frozen Themed Games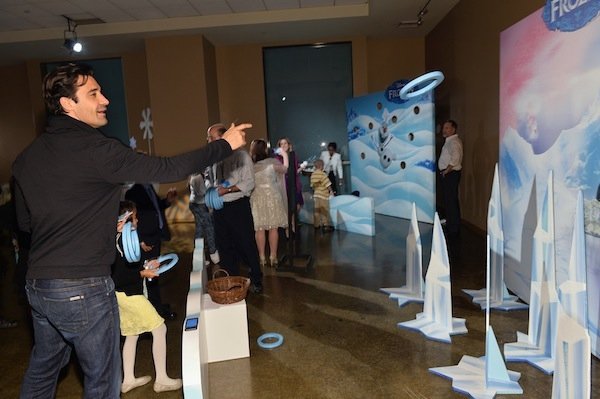 You can't throw a kids' party without games! One that seems to be pretty popular for a Frozen themed party is, "Pin the Carrot Nose on Olaf." Too cute! Find a sketch or photo of Olaf with no nose, print him out and then cut out orange noses using construction paper for the carrot! Blind-fold the kids, spin them around, and then ask them to find where Olaf is so they can pin on his nose. The closest nose wins a prize, which is Frozen themed of course!
---
6

Favors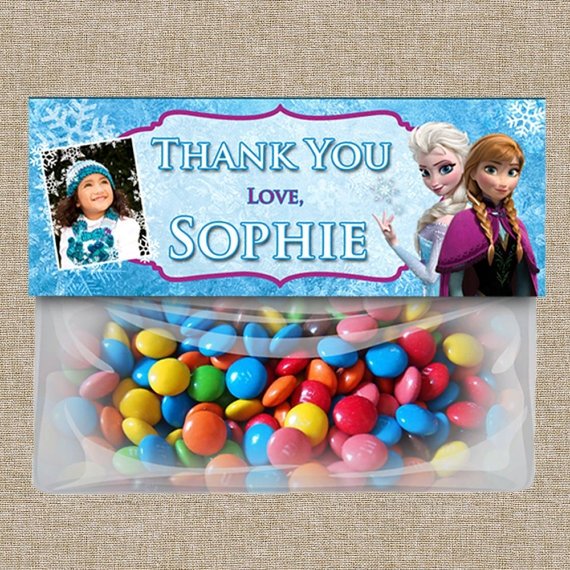 Speaking of prizes, don't forget to send the kids home with Frozen themed party favors! One idea that is perfect for a winter party is a DIY snow globe like this one over on millionmoments.net that features Olaf, Anna, and Elsa. If the kids are younger than six, you may want to skip on adding the water to the snow globe and just place some glitter for snow like they did over on sisterssuitcaseblog.com.
---
7

Movie Time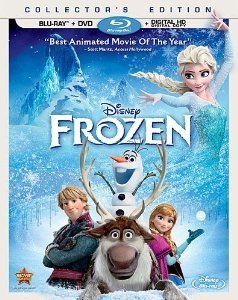 Frozen was actually out in theaters twice! It first came out right after Thanksgiving on Nov. 27th in the States, and then on Jan. 31st it was back on the big screen in select locations with a sing-a-long! So whether you make your party complete with a trip to the movie theater (if still playing) or buy the DVD (release date is March 18th and you can pre-order it over on amazon.com), watching and singing along to the film will really give your party the theme you were looking for!
Are your little ones asking for a Disney Frozen themed party this year? What are some ideas you are thinking of putting together for your themed party?
More
Comments
Popular
Recent