9 Tips for Traveling with Small Children ...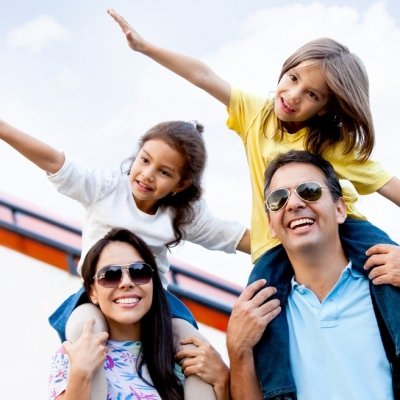 Tips for traveling with small children are helpful around this time of year with holidays quickly approaching! Most of these tips will be helpful regardless of your method of traveling. Road tripping it or catching flights all day can sometimes even leave adults cranky and worn out, so it's extremely tough on little ones! But these tips for traveling with small children should have you well on your way to a happy vacation, so please keep reading.
One of my top tips for traveling with small children is to keep any toys you pack separated. This prevents your kids from being bored with all their toys 20 minutes into the trip. Instead, slowly rotate toys out, giving one or two at a time and putting those away before more come out. This also eliminates a huge mess in the car!
2.

Bring Plenty of Snacks
A great way to keep kids satisfied is by offering snacks occasionally. I like to choose non-messy snacks, or snacks that have a tendency to be less crumbly or sticky. Raisins, fruit roll ups, suckers, bite-sized crackers like Goldfish, applesauce in squeeze pouches, and cheese sticks are a few good alternatives.
3.

Break up the Trip with Scheduled Stops
If you are traveling by car, take every opportunity you can to stop and let your children stretch their legs! Rest areas and parks will provide a place where your kiddos can run and get some energy out. You can also have picnic lunches if the weather is nice. If you're traveling by plane, the best way to break up your trip will be during layovers. Find an area where your kids can spread out and have extra room to play.
A fun way to entertain your kids is by fixing up a "surprise sack." Fill a small bag with inexpensive items like stickers, coloring books and crayons, small cars and dolls, or other fun treats. Pass these out when your kids start to complain of boredom to mix things up a bit!
5.

Plan Travel Friendly Games to Play
Have a few fun games in mind that you can play with your kids. Interacting together can help speed up the time and keep you both occupied! You can also bring mini versions of favorite family games for older kids. Word searches, crossword puzzles, books, coloring sheets, books on CD, DVDs, and silly songs on CD are also fun surprises to keep on hand for traveling with kids.
If your kids will be carrying their own bags on this trip, make sure you pack the bag lightly enough that it won't be too heavy. On a road trip they likely will only be carrying their bag to and from the car, but in an airport, a small bag can grow heavy very quickly with much walking. Plus, the lighter you pack, the easier your job of unpacking will be!
It's always best to be prepared, and that means bringing a few extra items you don't think you would need. An extra change of clothes for all kids under the age of 5 is always helpful! Plenty of wet wipes, hand sanitizer, safety pins, Tylenol, a thermometer, Band-Aids, chapstick, cough drops, hairspray, and scissors are a few handy items to have nearby when traveling with kids!
8.

Give Them a Disposable Camera
Kids will be quite entertained with their own camera! They will have fun deciding what to take pictures of, and you will have fun seeing their perspective of the world. Very small children will probably not understand the concept of taking pictures yet, but school age children will probably have a lot of fun with their own camera!
9.

Allow Yourself Extra Time
With children, you never know what small crisis may pop up. Extra time to go to the restroom, spills, falls, bumps, or tantrums may slow you down! Plan ahead and give yourself plenty of time to get where you're going. You may be glad you took an extra 30 minutes if it prevents you from being late!
Traveling with kids is never predictable! However, these tips should help things go a bit more smoothly, and keep bumps in the road to a minimum. Have you ever traveled with kids? Please share your tips and tricks in the comments below!
{{#comments_count}} Show Commnents ({{comments_count}}) {{/comments_count}}