7 Tips for Coping when Your Child Starts School ...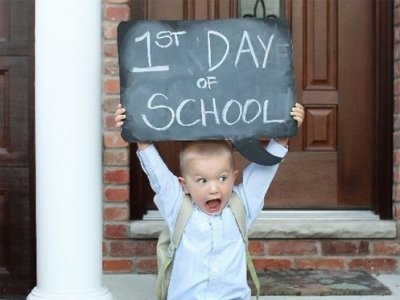 Do you need some tips for coping when your child starts school? It's a time that many parents find difficult, especially if they've been their child's full-time caregiver. Waving your child off for their first day at school can be very sad, as it is a sign that they're not your baby any more. Try these tips for coping when your child starts school …
The first of my tips for coping when your child starts school is to see it as allowing you more freedom. It's sad that your little one won't be with you all day, but they need to learn. So you might as well make the most of having more freedom. Even if you don't go to work, you can use the time to learn, meet friends, study, work out - or dedicate more time to your younger children.
Even for working parents, it can be something of a shock that your child is already old enough to go to school. It seems that very little time has passed since they were babies. Focus your mind on your work; it can be a very good way of distracting yourself. Perhaps you can now work towards a promotion or gaining qualifications that will help your career.
Some women find it so upsetting for their child to reach school age that they want another baby. It feels as though their child doesn't need them any more. Watch out for this feeling of broodiness. There's nothing wrong with trying for another baby if you want to add to your family, but it's not an answer to "school age blues." You can't keep popping them out!
Going to school is an opportunity for your child to make friends, acquire social skills, and build the foundations of their education. Likewise, it can be an opportunity for you as well. You can get back into work, get some qualifications, take up a hobby, or do whatever you want to with your time. Make the most of the chance you now have.
Sure, nobody can look after your child as well as you do. You're their parent, after all. But have faith in their teachers. They are trained, experienced professionals who have taught hundreds of children. Be confident that your child will be fine in their care, and don't bombard their teacher with messages because you want to check up on them. The teacher will let you know if there are any issues you should be aware of.
If you really miss being around children, then consider helping out at their school. Volunteers are always wanted to help kids with their reading, for example. Helpers may also be needed to organise fundraising, accompany children on trips, or supervise playtime. Get in touch with the school and see how you can help out.
Finally, although your child will be out at school for several hours, there will still be plenty of family time. Make the most of that time, and make sure that the early evenings and weekends are quality time. Stories, games, and outings will help you to enjoy the time that you have with your child.
Although you're probably proud to see your child marching off to school, there will probably be some mixed feelings as well. It's one of those milestones that make you wonder where the years have gone. But unless you home school, it's a stage that can't be avoided. How did you cope with your child starting school?
{{#comments_count}} Show Commnents ({{comments_count}}) {{/comments_count}}