7 Ways to Entertain Kids with Things You Already Have ...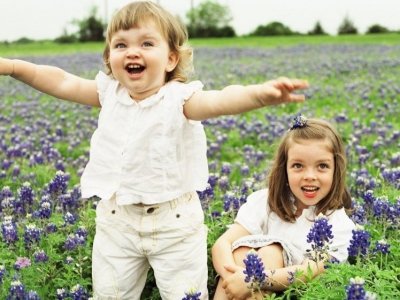 With three children at home, I'm always looking for new ways to entertain kids. I've learned over the years that they are much happier with some novel piece of trash you were all set to throw out than they ever are with the latest expensive toy on the store shelves. So, if you're like me and want to make the kids happy, but don't have tons of money to spend, post this list where you can see it. Check out these ways to entertain kids with stuff you have lying around and you'll all be happy.
When you're a kid, nothing is better than a good cardboard box. It's also one of the easiest ways to entertain kids for hours. Scrounge the garage for a box or simply head to your nearest home improvement store and ask for a discarded one. Give it to your kids and sit back and watch the fun. A box can become a car, a cave, a rocket ship or an underwater grotto with very little effort. Let your kids color the box and they're sure to stay entertained for hours.
2.

Pull out the Recycle Bin
Clearly, you'll want to cull anything with sharp edges, any glass and anything that's gross, but the recycling bin is super entertaining for kids. Give them an oatmeal container or a strawberry basket and they're sure to turn it into something really cool. Milk cartons, cereal boxes and pieces of cardboard are other perfect items for imaginative play. If it's warm, let your kids use all those containers to construct an epic sand castle in the backyard.
3.

Hand over a Stack of Blankets
A stack of blankets is a fort in the making. Help your kids lay them over the furniture in their bedroom or the playroom. Use stacks of books or clothespins to hold them in place. Then crawl inside with a couple flashlights and a stack of books and spend the afternoon reading to each other. Add some sleeping bags for an overnight adventure your kids will never forget.
4.

Give Them Some Fabric Scraps
I like to sew so I have several bins full of leftover fabric in my craft room. When the kids get bored, I like to give them a pile of pieces that are too small to do anything with. They love to hand sew chunks of fabric to make blankets and pillows for their stuffed animals or masterpieces we can string up and hang in the windows. It's great for teaching fine motor skills and creativity too!
But not for a bath! Little kids will get a kick out of sitting in the warm water and pouring water in and out of bowls, measuring cups, spoons, leftover medicine syringes (you know, the plastic ones that come with children's Tylenol, not the ones with actual needles), egg separators and water bottles. Older kids can give their stuffed animals a bath or see how tall a soap tower they can build with the bubble bath.
6.

Pull out the Garden Trowels
There's nothing kids like more than digging in the dirt. In fact, my own kids love it so much that I've dedicated an entire corner of my backyard as landscape free so they have a place to dig anytime the mood strikes. Give your kids a couple trowels or large spoons and let them dig to their hearts' content. Sneak out there every so often and bury some pennies or other treasures they can discover. The fun never ends!
There's just something about watching oneself on tape that really appeals to kids. Chances are your smartphone lets you record video, so make a movie to share on your social media page or simply to entertain the kids later. Have your kids rehearse a short song or play, then record it for them to view. You'll have as much fun as they will.
How do you entertain the kids without having to spend money? Which of these ideas will you try first?
{{#comments_count}} Show Commnents ({{comments_count}}) {{/comments_count}}